401 Unauthorized Access Error is a known HTML Error code that you may encounter when surfing the Internet. It typically appears on sites that require user credentials. This error indicates that you do not have permission to access the requested page. So what happens when you get 401 error using crawler IP?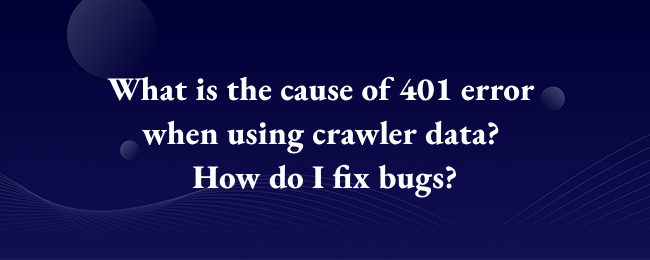 401 Error Cause
1. The URL is incorrect
You receive a 401 error message when you try to access an invalid URL.
2. Incorrect login credentials
If you enter the wrong username and password, a 401 error occurs.
3. Try to access the page without login
When you want to request part of a site that requires you to log in securely, you will receive a 401 error message.
4. The DNS error
In rare cases, a DNS lookup error may result in a 401 error message on your browser. The site requires login information without prompting you to log in (server-side problem).
Fix 401 error method
1. Check whether the entered URL is correct.
2. If your URL is valid but you cannot access the site, you may not be logged in to the site. Make sure you are.
3. If you receive a 401 error after login, the user name or password you provided is invalid. You must provide the correct username and password. If you forget your password, please use the site's built-in password reset function to select a new password to reset the password.
4. Clear your Web browser cache and cookies. When a 401 error occurs, it means that the client is not authorized to perform a particular request, and the reason behind this may be that invalid or corrupted cookies are causing the server to authenticate incorrectly.
5. Temporarily disable all plug-ins and themes. To resolve the 401 error, you must disable all plug-ins and themes. Perhaps one of your plug-ins or themes generates a 401 error.
6. If a DNS error is behind the 401 error, then you must refresh your DNS to remove it, and it is recommended that you maintain your Internet service regularly.