Because proxies can be divided into transparent proxies, ordinary anonymous proxies and advanced anonymous proxies according to the classification of security requirement information, which categories can they be divided according to their purpose?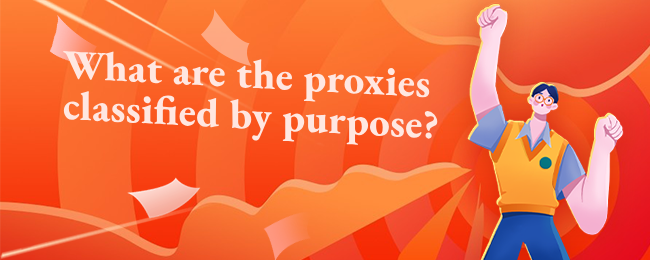 HTTP proxy: the most commonly used proxy for HTTP access of proxy clients. The main proxy accesses are 803128, etc.
SSL proxy, also known as HTTPS proxy, supports HTTP proxy with strength up to 128 bits, and can be used as a proxy to access encrypted websites. Encrypted website refers to the website starting from HTTPS / /. The standard port for SSL is 443.
HTTP conect proxy: allows users to establish a TCP proxy server on any port. It can be used not only for HTTP, but also for FTP, IRC, RM streams, etc.
FTP proxy: the FTP server that accesses the proxy client is usually port 21 and port 2121.
POP3 proxy: the proxy client mail software sends and receives mail through P3, and the port is generally 110.
Telnet proxy: it can act as a telnet proxy for communication machine, which is used for remote control, usually for intrusion. Its port is usually 23.
Socks proxy: it is an all-round proxy, just like an adapter board with many jumpers. It just connects one system to another. Support various protocols, including HTTP, FTP requests and other types of requests. Socks4 and Socks5 are divided into two categories. Socks4 only supports TCP protocol, and Socks5 supports TCP / UDP protocol and various authentication mechanisms. Its standard port is 1080.
Tunnel proxy: http request wraps the data converted by the HTTP tunnel program on the firewall. The HTTP server can perform the TCP function, which is the same as that of Socks5.
Document proxy: the proxy used to query the database. Using the proxy, you can obtain database resources in Internet related scientific research fields, such as ScienceDirect website, Academic Press, IEEE, spring, etc.
Educational network proxy: refers to the LAN of academic and educational institutions that enables computers to access relevant resources without IP segment permission through a specific proxy server.
Jump proxy: it is applied to the springboard program and can be regarded as a special Socks5 proxy for dynamic encryption. It can also be directly applied to PSD software. The port is usually 1813.
Ssso proxy: proxy the client's ssso program to access the remote site. Super proxy has SSL encryption strength and supports socks.
Flat proxy: the flatsurfer program of the proxy client accesses the remote site. It has a special proxy to encrypt the data stream with high strength, supports socks, and can set up a maximum of three cascades through the proxy. This port is usually 6700.
If you need to use socks proxy and HTTP proxy, you can go to Roxlabs website to get 500MB trial, high hiding residential proxy and the most secure proxy network, covering all regions of the world.