Generally speaking, when collecting web page data, if the collection frequency is too high, the IP address of the website will be limited, so that you can no longer access it within a certain period of time, and the data collection naturally cannot continue. If you want to solve this problem, the best way is to manage the server.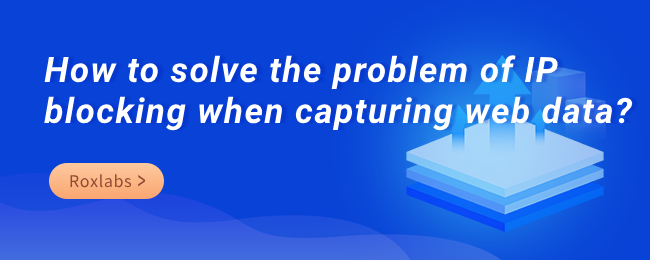 When obtaining information, if the number of crawls exceeds the threshold set by the website, you will get a 503 or 403 response and cannot enter. Generally speaking, the anti crawler mechanism of a website is based on IP to identify whether it is a normal user. Therefore, in order to solve this problem, developers often need to do two things:
1. Reduce access speed and target site pressure. However, this reduces the grabbing of categories per unit time.
2. By setting up a proxy server, the anti cheating of the website is broken through and high-frequency crawling continues. At this time, multiple stable proxy IPS are required.
Proxy IP can be searched for free, but it may be unstable and take a lot of time. This may not be cost-effective or not a long-term solution. If you want a stable and easy-to-use proxy server, you'd better find a proxy server that needs to pay. After all, there is a specially assigned person to manage it, and you will pay more attention to user feedback.
If you have too many questions about selecting proxy servers, it is recommended that you test them before purchase. Roxlabs provides 500MB trial for new users, including global IP resources and unlimited bandwidth extraction.